Taxi Barcelona Airport
Taking a taxi in Barcelona Airport is a very convenient option to get safe and sound to your destination.
Transfer to downtown Barcelona within 20-40 minutes.
Taxi Stops at the airport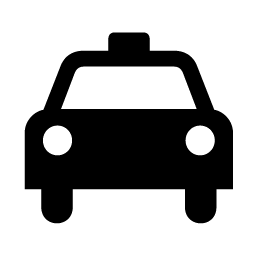 Taxi ranks are located in front of both terminals: T1, T2 A, T2 B and T2C. Also in Barcelona-Madrid corridor area.
Vehicles are black and yellow.
Service 24/7.


Taxi companies
The following taxi companies serve Barcelona Airport:
- Radio Taxi Barcelona: +34 933 75 55 55
- Cooperativa Radio Taxi: +34 932 25 00 00
- Barnataxi: +34 933 22 22 22
- Radio Taxi Barcino: +34 931 18 18 18
Useful phone numbers
- Information and complaints: +34 932 235 151
- Lost items: 902 101 564
Taxi Fares
Fares are charged according to the hour and time of the day.
The average cost to transfer from Barcelona Airport to the city center is around 25.00-30.00€.
Please note there is a 4.30€ surcharge for trips to and from the Airport.
Minimum fare from Airport is 20€.

There are four types of taxi fares in Barcelona Airport:
Fare 1
Weekdays from 08:00am to 08:00pm for trips in Barcelona Metro (AMB).
- Initial fare: 2.25€
- Price/km: 1.18€
- Price/hour: 22.60€
Fare 2
Weekdays, weekends and public holidays from 08:00pm to 08:00am for trips in Barcelona Metro (AMB).
- Initial fare: 2.25€
- Price/km: 1.41€
- Price/hour: 22.60€
Fare 3
Closed price fare for app users.
- Drop flag: 3.25€
- Trip less than 5 km: 1.77/km€
- 5 km-7 km trip: 1.66/km€
- 7 km-10 km trip: 1.56/km€
- Trip longer than 10 km: 1.31/km€
Fare 4
Fixed fare of 39.00€ for trips from Barcelona Airport to Barcelona harbour.
RidesharING SERVICE
Cabify, Free Now and Uber operates in the city. You can also use the local taxi app, App Taxi.
Transfers
If you wish to transfer to and from Barcelona Airport on your own by private transportation, you can book a transfer through our site.