Barcelona Airport Metro
Taking the metro is a great option to get to Barcelona city centre from BCN Airport. 
Metro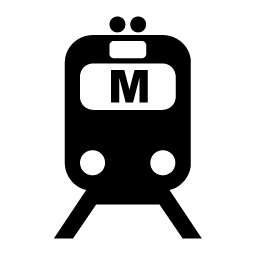 Metro L9 -orange line- connects Barcelona Airport with downtown.
L9 is split into North and South, being L9 South the one that links Barcelona Airport with city centre.

It is a good option if you do not carry a lot of luggage with you. 

Location
L9 South stops at both terminals T1 and T2 every 7 minutes.
Stops
L9 has the following stops:
- Barcelona Airport Terminal 1
- Barcelona Airport Terminal 2 (connection with RENFE Rodalies train)
- Mas Blau
- Parc Nou
- Cèntric
- El Prat Estació (connection with RENFE Rodalies train)
- Les Moreres
- Mercabarna
- Parc Logístic
- Fira
- Europa / Fira (connection with FGC train)
- Can Tries / Gornal
- Torrassa (connection with L1 Metro -red line)
- Collblanc (connection with L5 Metro -blue line)
- Zona Universitària (connection with L3 -green line).
Barcelona Airport to City metro
As described above, L9 South serves Barcelona Airport.
Travel time to downtown takes 30 minutes.
In order to reach Barcelona city center, passengers must transfer to L1, L5 or L3, depending on your final destination.
schedule
Barcelona Metro runs daily from 05:00am and resumes at midnight. Saturday to Sunday nights runs 24 hours. 
On Friday night, it resumes at 02:00am and starts at 05:00am.
However, it is recommended to check metro schedule beforehand.
Fares
There are three ticket options to travel between Barcelona and El Prat Airport.
Bear in mind that fares are metered according to distance:
- Hola Barcelona Travel Card: Unlimited trips to and from the Airport and on public transport in Barcelona for 48h, 72h, 96h or 120h. Recommended for stays longer than 2 days. Price vary depending on your desired ticket. 
- Airport ticket: The single ticket to travel between Barcelona Airport and downtown. Ticket starts at € 4.60.
- Integrated transport tickets to the airport: An option for those passengers who will be staying in Barcelona for a while.